---
Regulations / Layout / Time-table / Classification
---
<![if !vml]>

<![endif]>
1 No talking or playing in the library.
2 No eating or drinking in the library
3 Neither borrowing nor lending of library cards is allowed. If your card is lost, please inform the librarians immediately.
4 No book is to be taken out of the library without first checked out by the librarians.
5 Books must be returned before the expiry date. Late return will be fined 50 cents per book.
6 Inform the librarians on any damages done to the books. Do not write or draw on books.
7 Always replace books in their position on the shelves after you have viewed them.
8 Before you leave the library, please put back properly everything you have used, eg. books, chairs etc.
---
<![if !vml]>

<![endif]>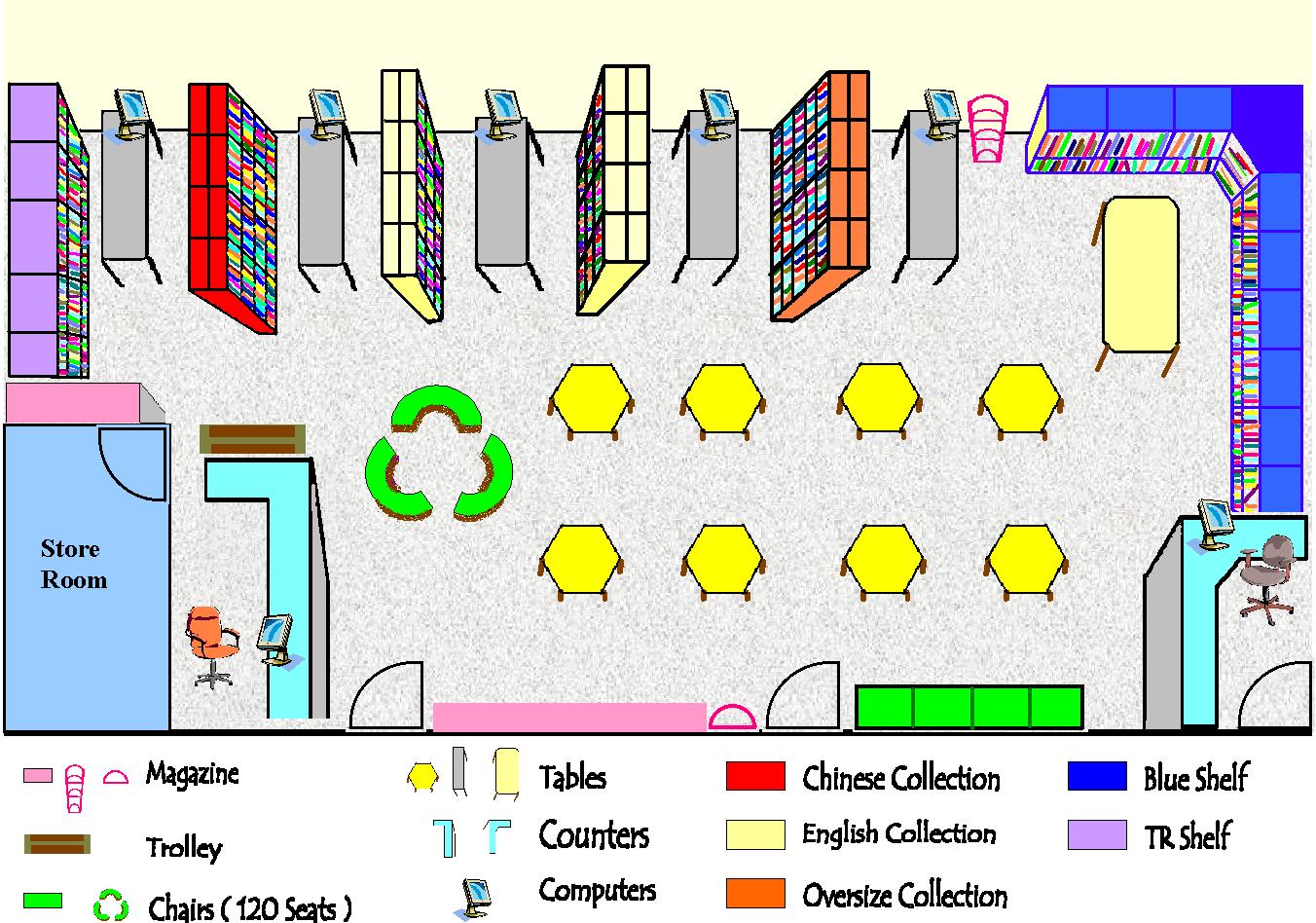 ---
<![if !vml]>

<![endif]>
Time
Day 1
Day 2
Day 3
Day 4
Day 5
Day 6
7:50 - 8:25
(Morning)
Reading only
10:30 - 10:50
(Recess)
For returning books
P3 - P 6
12:45 - 1:05
(Lunch break)
For borrowing books

P3 - P6
---
分類號碼
Class. No

標題
Heading
註釋
What the book is about

000

百科全書
Generalities
百科全書和綜合知識書籍。
General encyclopaedias, books of general knowledge.

100

哲學
Philosophy
心理學(人類行為、性格、記憶和學習)。
Psychology (study of human behavior, personality, memories and learning ).

200

宗教
Religion
宗教故事、聖人。
Religious stories, Christian biography, mission.

300

社會
Social Sciences
各國風俗(節日、禮節)、學校教育(出版刊物)。
Customs and folklore (festivals, etiquette), school ed.(magazine).

400

語文
Language
文法,字典。
Usage and grammar, dictionaries.

500

科學
Natural Sciences
物理、化學、生物學(植物學、動物學)、自然地理(氣候、岩石、火山、地震)。
Physics, chemistry, biology (books about plants and animals), earth sciences (climate, rocks volcanoes, earthquakes).

600

應用科學
Applied Sciences
機器、科學發明、建築、醫療(人體生理學)、衛生與家政。
Engineering, inventions, building, medicine (human physiology), hygiene and domestic science.

700

美術
The arts
美術、手工藝、運動與遊戲。
Fine arts, crafts, sports and games.

800

文學
Literature & rhetoric
詩、詞、曲、劇本、散文。
Poetry, drama, prose and essays.

900

歷史、地理
History & geography
各國歷史、傳記、地理、旅遊指南。
Biographies and travel guides.